TTA Surgery
Canine Knee Surgery – Healing your Dog's Knee Injury
Tibial Tuberosity Advancement to Repair your Dog's Cranial Cruciate Ligament Injury, with the Least Discomfort and Stress to your Dog.
Dr. Leahy specializes in finding and performing solutions to TTA, contact us to learn more, or find more information with the report below!
More about Dr. Leahy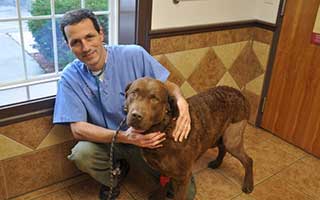 Dr. David Leahy graduated in 1990 from Cornell University, and then spent two years at a large, multi-location mixed animal practice in Merced, CA. In 1992, he returned to his native, central New York roots and, along with his wife Marilyn, opened Delsego Veterinary Clinic in Otego, NY.
In 2001, he merged with Dr. Peter Ingraham to form Community Veterinary Center. He has six sons, five dogs and five horses, which all keep him pretty busy when he is not at the practice. He enjoys being on the forefront of special veterinary surgery techniques, with a special interest in orthopedic surgery.
Dr. Leahy Learned the Tibial Tuberosity Advancement procedure from Dr. Robert Martin, surgeon and Professor at Virginia Tech Veterinary College.
Some Testimonials for Canine Knee Surgery
10/26/2010 – "Freddy's back leg, was very bad. He couldnt walk on it for quite some time. I took him to see Dr. Leahy he did a TTA on Freddy's knee. He went through a long period of TLC and we thought he was going to need surgery on the other knee, but its been almost two years and he's doing great. We have chickens and he runs after them at high speed, jumps off the deck instead of using the steps. Thank you very much to Dr. Leahy, and the staff of CVC." -Doreen Stuss
10/26/2010 – I was thrilled with my 8 yr old Bernese Mtn Dog's TTA surgery and recovery. Cassie lived another 2.5 yrs (very good for a Berner, for those who don't know of their longevity issues) and had very minimal mobility problems until her final illness. Whenever someone mentions needing cruciate surgery and know only of TPLO I try to enlighten them to TTA, in general, and Dave Leahy, specifically. You guys are always there when we need you. Thx!! - Nancy Smalley
10/04/2011 – Lady is a 9 year old (we think – she is a rescue) mixed breed who needed a TTA several years ago. Leia was the vet tech who took special care of Lady, and Leia always remembers Lady when we come in to the office. It makes us feel very special! Leia is the only person at CVC Vet that Lady feels comfortable with and, well, just loves Leia! Dr Leahy was great too and Lady recovered wonderfully! Dr Leahy explains everything and is meticulous and thorough. Thank you Leia and Dr. Leahy! -Wendy Mitteager